Stock Count & Cycle Counting
Annual Stock Count or Cycle Counting
Stock counting is an integral part of any product business. However the process of printing count sheets, collating and valuing the stock can be an arduous process. We have simplified this process using a handheld computer that will read a barcode and allow the user to input the count quantity. If your products are not bar-coded you can print barcode labels from the system based on your product code. The system will value the count at the cost price and the results can be extracted to Excel if required. The stock difference can be exported to a csv file for import into your stock control system.
System Highlights
Barcode label Printing
Multiple Handhelds can be used for the count
Can be used with or without barcodes
Standard Avery/ Sellotape Labels printed from a laser
links or import your existing stock data
Handheld Operations
Stock Count Main Menu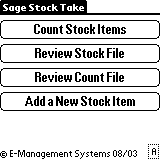 When the Stock Count program is loaded the following screen is displayed. Once you have synced the handheld with your Stock Count application you are ready to start the count process.
Click on Count Stock Items to start the stock count.
Click on Review Stock items to review the stock file as loaded onto the handheld.
Click on Review Count file to review your count entries, in this screen you can amend the count quantity and delete a record if required.
Counting Stock Items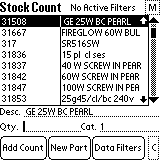 Stock items can be scanned or selected from a list. The list can be filtered by selecting the Category , Department or Supplier.
The user can also scroll through the parts using the scroll bar. When the required part is selected the user can enter the quantity using graffiti or the number input pad.
If a part does not exist in your Stock records you can add it manually using the New Part screen. The emphasis in the application is on ease of use and quick data entry.
Reviewing the Count File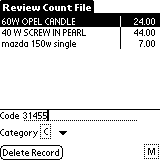 When items have been counted the user has the option to delete the item or change the count quantity. The user can also update the count information after the sync in the count maintenance section before updating the information.
Multiple handhelds can be used for the count process with the count data consolidated centrally for review and reporting.
Our Stock Count solution has been integrated into Sage Line 50 and Syspro and deployed as a stock control solution for a chain of newsagents shops. We can customise this solution to your business, please contact our office to arrange an appointment.