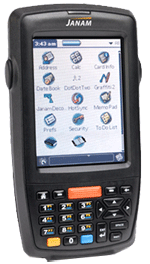 The Janam XP30 is the world's first fully-featured rugged mobile computer that scans barcodes and runs the latest version of the Palm OS. A brilliant, color, quarter-VGA display and blazing Freescale™ architecture make the Janam XP30 a best-of-breed, rugged,barcode-scanning, mobile computer, while its list price makes it impossible to ignore.
For customers who want to extend the reach and capability of their mobile Palm applications, the Janam XP30 has the horsepower to execute mission-critical, data collection tasks at the point of business activity. And for customers who are ready to switch to the Palm OS for its simplicity and its durability, the Janam XP30 is a platform that pays for itself twice as fast as comparable devices.
TECHNICAL
Operating System
Palm OS 5.4.9 Garnet
Processor
Freescale™ i.MX21 @266MHz
Memory
32MB SDRAM, 64MB NAND, NAND flash backup of OS, applications and user data
Expansion
User accessible microSD card slot
Power
Swappable 3.7V 2400mAh rechargeable Li-ion main battery; rechargeable 20mAh Ni-MH backup battery
PHYSICAL
Dimensions
1.30″ H x 3.11″ W x 5.75″ L / 30.5mm H x 79mm W x 146mm L
Weight
9.88oz / 280g with battery
Keypad
Backlit PDA keypad (with 4-way navigation) or backlit numeric keypad
Display
2.17″ W x 2.95″ L / 55.0mm W x 75.0mm L; 262K colors TFT QVGA (240×320)
Touch Panel
Analog resistance type; stylus input
ENVIRONMENTAL
Operating Temperature
14° to 122° F / -10° to 50° C
Storage Temperature
-13° to 158° F / -25° to 70° C
Humidity
5% to 90% RH (no condensation)
Drop
Multiple 4ft /1.2m drops to concrete on all sides across a wide temperature range
Water & Dust
IP54 Category II
Vibration
0.03 G²/Hz from 20Hz to 2kHz; 1 hour random wave per axis
Electro Static Discharge (ESD)
+/- 15kVDC air; +/- 8kVDC contact
Sterilization
76.9% to 81.4% concentration alcohol rub
Ambient Light
450ft-candelas (artificial light); 8,000ft-candelas (sunlight)
INTERFACE FEATURES
Audio
Speaker and Microphone
Alerts
Vibration, LED indicators, audio beep
LED Indicators
Tri-color
Scan Triggers
Left, right, center buttons
DATA CAPTURE
Imager
Adaptus® Imaging Technology; 752 x 480 pixel CMOS area imager
1D Symbologies
China Post, Codabar, Codablock F, Code 11, Code 16K, Code 32 Pharmaceutical (PARAF), Code 39, Code 49, Code 93 and 93i, Code 128, EAN-8, EAN-13, GS1-128, GS1 Databar (RSS-144, RSS Limited, RSS Expanded), Interleaved 2 of 5, ISBT 128, Matrix 2 of 5, Korea Post, MSI, Plessey Code, PosiCode, , Straight 2 of 5 IATA (two-bar start/stop), Straight 2 of 5 Industrial (three-bar start/stop), Telepen, Trioptic Code, UPC-A, UPC-A with Extended Coupon Code, UPC-E, UPC-E1
2D Symbologies(with firmware upgrade)
PDF417 (EAN-UCC Composite, MicroPDF417, PDF417, TCIF Linked Code 39, TLC39), 4-CB (4-State Customer Barcode), Australian Post, Aztec Code, Aztec Mesas, British Post, Canadian Post, Data Matrix, ID-tag (UPU 4-State), Japanese Post, KIX (Netherlands) Post, MaxiCode, OCR, Planet Code, Postnet, QR Code
DATA COMMUNICATION
IrDA
Standard v1.2
USB
v1.1 client (up to 12Mbps)
WLAN
IEEE 802.11b, 2.4GHz, WPA support
ACCESSORIES
Single-Slot Cradle Kit, RFID Reader, Stylus 5-Pack, Four-Slot Cradle Kit, Cable Cup, Stylus Tether, Modem Cradle Kit, Vehicle Charger, Nylon Holster, Extended Capacity Battery, Syncing/Charging Cables, Adjustable Handstrap, Magnetic Stripe Reader, Battery Charger, Operating Case
SAFETY/REGULATORY
Safety
UL60950-1, CSA C22.2 No. 60950-1-03, EN60950-1:2001+A11, GS, NOM
EMI
FCC Part 15 Subpart B, EN55022:1998+A1: 2000+A2:2003, EN55024:1998+A1:2000+A2:2003, ICES-003 Issue 4, AS/NZS CISPR 22:2004
RF
FCC Part 15 Subpart C and Supart B, EN300 328 v1.6.1 (2004-11), EN301 489-1 v1.6.1 (2005-09), EN301 489-17 v1.2.1 (2002-08), RSS 210 Issue 6, COFETEL
Hazardous Locations
UL Listing (US and Canada) Class I Div 2, Groups A, B, C, D
Specifications Subject to Change.